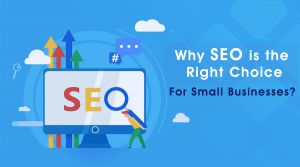 If you're a small business owner, SEO is the Right Choice that helps you build a strong web presence to gain lots of many new customers for your business and eventually increases conversion rates.
With the help of SEO small business owners easily create fast, robust, and user friendly websites that rank higher in search engines(Like Google, Bing and Yahoo etc…) which in returns bring more qualified potential customers to their websites.
Nowadays Search Engines is a place where businesses find success only if there is a consistent effort is put into improving search engine optimization (SEO). Although optimization tasks for website takes time, but it will make your business competitive and capable of long lasting success.
Even those who are facing Tight Budgets Can get more Benefit From Well-Done SEO. Hence, SEO is exactly the right choice for Small businesses when they are dealing with tight budgets.
Check out Top 5 KEY benefits of SEO for small businesses:
User Friendly Websites that rank higher in search engines
Bring in MORE Customers to New Business
Better Conversion Rates to Grow More
Build Brand Awareness a strong Web Presence
Bypass Competition for long lasting success.