Delivering results and creating delightful client engagements by proffering robust digital solutions would soon endow Midinnings as one of India's leading digital marketing solutions providers at GoodFirms.
About Midinnings:
Incorporated in 2019 and based in Udaipur, Rajasthan, Midinnings is a Marketing & Communications agency specializing in everything ranging from social media campaigns to web design to 2D/3D animation, outdoor, print, and many others.
Midinnings is glad to partner with clients to spin a fascinating story for their respective brands. Being experts in their field, Midinnings is a process-focused agency looking to partner with clients and then follow the process that builds a clear understanding of its stakeholders. Through years of experience, the expert marketers' team follows a successful marketing process delivering results that creates delightful client engagements.
The professionals at Midinnings provide outstanding web and digital services for startups, enterprises & businesses. The expert team helps brands connect with audiences by curating authentic narratives, logos, and compelling visual identities that stand out, build trust and spur action.
Moreover, the group also conceptualizes memorable social media personas and performs strategic content campaigns to build exceptional followers and brand affinity. They specialize in designing and developing websites & apps that convert leads and look impressive in the process. The team also optimizes and maintains their existing site by creating landing pages for their campaigns to get maximum ROI.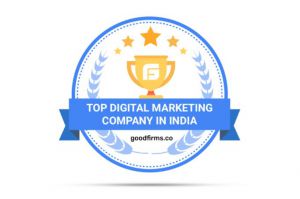 GoodFirms' Research Process:
Midinnings is listed with GoodFirms, a B2B business helping millions of business owners to find & manufacture software products & services. With its pioneering evaluation method, based on three primary factors viz. Quality, Reliability, and Ability, GoodFirms have favorably made the pursuit of service seekers easier.
GoodFirms also evaluated Midinnings and concluded that the firm would soon lead as one of the best digital marketing, web designing, and web development services agencies in India and globally, respectively, at GoodFirms.
Digital Marketing:
With perpetual efforts to unlock the new age social media marketing services secrets, Midinnings is equipped with an expert social media team in Udaipur, ensuring customers convert to brand evangelists.
Social media marketing helps develop brand loyalty enabling clients to engage with their customers and leads on social media by building strong customer relationships. The team ensures that clients get success showing their audience how their brand is different and reinforcing that clients' business cares about its users apart from their competition.
Starting with research and development allows the team to understand clients' brand, audience, and goals – and are able to use the strategy to measure each step and analyze what tactics are working through the procedure. The clients' business will understand how every installment is calculated and why their team chose it. Ultimately, the objective is to build a strategy that leads to increasing clients' bottom line.
Thus, implementing a social media strategy will significantly increase clients' brand recognition by engaging with a broad audience of consumers would soon enable Midinnings as one of the best digital marketing agencies in India at GoodFirms.
Web Designing:
The expert designers' team constantly endeavours to create appealing designs that boost clients' businesses. Midinnings' mission is simple: to work collaboratively with the clients to create crisp, powerful, and compelling brands. They breathe life into clients' company stories, which advances their brands' message and forms a distinct image.
While each phase moves clients' brand somewhere new and exciting, the team continuously infuses new directions to take the brand to the next level. At Midinnings, the team helps clients take the first step or conquer the latest hurdle.
With the foundation in place, the experts' team moves into the visual expression of the emerging brand identity. They begin by traversing and presenting multiple design solutions. Once a direction has been selected, it is honed over a series of creative review rounds, and then finalized for application and launch.
Thus, crafting beautiful web designs for clients would soon endow Midinnings as one of the web design companies in India at GoodFirms.
Web Development:
Midinnings would soon emerge as a top-notch web development company at GoodFirms with focused use of resources and possibilities.
The expert web developers at Midinnings convert clients' ideas, suggestions, and technical needs accurately. The developers consider website development from a user's perspective, making UI and UX their top priority. This helps clients' websites attain more effective traffic rates.
Moreover, the professionals' team helps you create custom sites for clients' brands that target efficient user engagement. They cover everything from the initial coding to designing and the final delivery.
Further, the web developers offer unique and secure web application development solutions matching clients' business strategies and requirements. They also focus on a collaborative approach, to understand customers' needs to deliver business value.
About GoodFirms
Washington, D.C.-based GoodFirms is an innovative B2B Research and Reviews Company that extensively combs' the market to find web development, web design, and digital marketing services agencies amongst many other technology firms that offer the best services to their customers. GoodFirms' extensive research process ranks the companies, boosts their online reputation, and helps service seekers pick the right technology partner that meets their business needs.
About the Author
Anna Stark is a staff writer with GoodFirms – a Washington D.C.-based B2B Research Company that bridges the gap between service seekers and service providers. Anna's current role includes gauging companies' performances and their key attributes and putting them into words. She firmly believes in the magic of words. She is always looking for new strategies and ideas that companies have gladly embraced and exclusively shines a light on those to make their identities shine brighter on GoodFirms and the World Wide Web.